Good Morning, friends! Microsoft has released a new Windows 10 pre-build number 21286 for Windows Insider program members using the Dev channel (formerly "Early Access").
In the previous update
Full build number: 21286.1000 rs_prerelease 201218-1418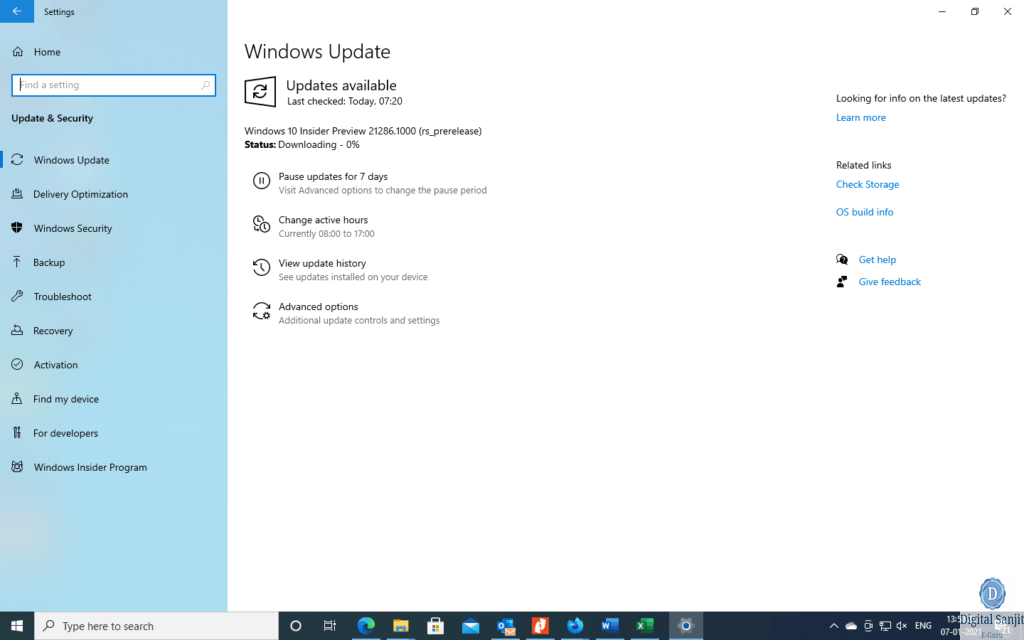 Important! Build 21286 from the RS_PRERELEASE channel is distributed to all insiders using the Dev channel. Simply put, from now on, all insiders on the Dev channel get the same system builds. There is no longer a division into assemblies from the FE_RELEASE and RS_PRERELEASE branches.
We would let you that the Dev channel which can contain quite unpleasant with errors if you are a beginner. If you need more establishment, we recommend switching to the Release Preview channels or Beta (Late access).
Innovations
News and interests in the taskbar
The taskbar has a new section that allows you to quickly access the feed of dynamic content with news, weather and other interesting things.
You can personalize your feed by adding relevant content to it. Instead of having to switch between apps or PC and smartphone to keep up to date with the news and events that interest you, you can now view the feed directly from the taskbar at any convenient time.
* Stay up to date. Quickly view news and other interesting information directly from the taskbar. Get to know the latest weather, sports, news, etc. and then go back to whatever you transpired doing before without disrupting your workflow. Now you have convenient access to news and interesting content from more than 4,500 global companies, such as The New York Times, The BBC or The Verge, as well as a great weather map, updated in real-time. Select an article to open a convenient reader with the least amount of distractions, so you can save time and focus on the content.
* Personalize the feed. You can specify which content you like or dislike by opening the " … "menu and selecting " More Similar Stories" or"Less similar Stories". Over time, more news that you are interested in will appear in your feed. You can also use emoticons to respond to stories.
* Everything is under your control. Microsoft believes that privacy starts with you being in control and providing the tools and information you need to make informed decisions. Thanks to the new section, you now have quick access to the Microsoft Privacy Dashboard. And the Microsoft Edge browser has built-in tools to block tracking by advertisers and third parties. By the way, if you are not interested in the news section, you can easily disable it by right-clicking on the taskbar.
Since now many people spend a lot of time at the computer to work, study, communicate and play, the new section on the taskbar will be a good helper for those who require to stay up-to-date with the newest developments. Over time, Microsoft hopes to move the news feed and interesting information to other places, such as Microsoft Edge.
Starting with build 21286, the company begins distributing the new section to insiders on the Dev channel. It is noted that after installing the 21286 builds, a reboot will be required to make this feature available. Managed distribution of such features allows Microsoft to quickly identify issues that may affect performance and stability. In the future, the company plans to develop this feature.
An important application! Currently, this feature is only available to insiders in the US, Canada, UK, Australia and India. It also requires an installed Microsoft Edge browser based on Chromium. The company is testing several versions of this feature at once, so the pop-up window may differ for some insiders.
Modern implementation of disk space management
Now you can create and manage disk spaces from the Settings app. Accurate, you can build a storage space and storage pool, add and optimize pools, and remove disks. The new interface is integrated with other storage management features.
Executing the command when starting the Windows Subsystem for Linux (WSL)
Added a new parameter that allows you to execute any specified Linux command when starting the WSL distribution. You can configure the function by editing the /etc/wsl.conf file in the desired distribution and adding the "command" option to the "boot" section. This command will be executed every time this particular WSL distribution is started. The example below shows how to use this function to register the launch date and time of this distribution.
This command will be executed the first time you run the WSL distribution. The distributions themselves continue to run for a few minutes even after closing the last Linux process inside them. You can find out if your WSL distribution works by running the wsl –list –verbose command. And with the wsl –shutdown command, you can manually close all running WSL distributions.
Improved time zone change
Based on the feedback, Microsoft has made a few small changes for users of the "Automatically set Time Zone" feature in the "Date and Time" section of " Settings»:
When your time zone is updated due to a change in location with a high degree of data reliability, the system will send a corresponding notification that will include information about the new time zone. If you click on the notification, you will see the "Date and time" section in the "Settings".
If the system identifies a location shift with a low level of data confidence, and there is at most limited one administrator on the device, the system will transmit a notification asking whether the time zone needs to be updated. Clicking on the " OK " button in the warning will adjust the time zone in the system.
Other Insider Updates
Windows File Recovery-Winter Update
After the release of the first version of Windows File Recovery, developers received many options and suggestions. This update includes performance improvements, bug fixes, and two simplified recovery modes. Normal mode is a quick recovery option for NTFS file systems, while the advanced mode is a thorough search that applies to most file systems.
The updated version is available to members of the Windows Insider Program, and will soon be available to everyone. For the operation of the tool requires Windows 10 May 2020 Update or a newer version. You can download the app for free from the Microsoft Store at this link.
Changes and improvements
Based on feedback (GitHub issue #1495), Microsoft has added the ability to disable the automatic mapping of a controller to a virtual key for UWP apps. If you need it, create the following registry key with a DWORD entry called Enabled and a value of 0: HKLMSoftwareMicrosoftInputSettingscontrollerprocessorcontrollertovkmapping
Corrections
Fixed an issue that caused some users in Build 21277 to see a pop-up window with the message "There is a problem on your computer and it will restart in 1 minute" after logging in to Windows with an Azure Active Directory or Active Directory account.
Fixed an issue where any disks were not displayed in Settings – > System – > Memory – > Disk and Volume Management.
Fixed an issue that caused some printers to hang during the connection phase when added from the Settings app.
Fixed an issue that could sometimes lead to unexpected account logout in some apps and websites after a device reboot.
Fixed an issue where the Windows Security icon in the context menu was sometimes too large when right-clicking on the taskbar icon.
Fixed an issue that could cause media transcoder to hang when transcoding certain files.
Fixed an issue where audio playback from UWP apps would not be interrupted after clicking on the microphone icon to allow Cortana to start listening to your speech.
Fixed an issue where VPN items in the Network pop-up window could hang with the status " Action Required "until you click Cancel and try to reconnect.
Fixed an issue that affected accuracy when resizing windows using the touch screen.
Based on feedback, some corrections have been made to the keyword emoji search results. In particular, a new keyword "LGBTQ" has been added, which will return emoticons with a rainbow flag when entered.
Fixed an issue where the read-aloud options in the Screen Magnifier tool would suddenly turn grey.
Fixed an issue where the "Help improves Narrator" switch in "Options" was disabled for Windows Insider program participants.
Now "Narrator" will voice the contents of Excel cells if the context level is set to "2-immediate context".
Fixed an issue where Screen Announcer might not report whether a drop-down box is expanded or collapsed.
Fixed an issue that affected the ability of the "Narrator" to voice the names of certain hyperlinks on websites in Microsoft Edge.
Fixed an issue that affected the ability of the "Screen Announcer" to voice a window with code in Visual Studio.
Fixed an issue for high contrast users that could make the Settings app to malfunction when operating to the Accessibility section.
Known Issues
Engineers are working to fix an issue that may cause some games, such as State of Decay 2 or Assassin's Creed, to crash or crash on launch.
We are investigating an issue where Call of Duty: Modern Warfare and Call of Duty: Black Ops Cold War may not launch starting with this build. If you play these games, you can pause receiving updates until the issue is resolved.
You may experience some rendering or graphics issues after resizing some application windows. If you minimize all the application windows and then open them again, the problem should be solved (double-click WIN + D).
We are investigating an issue that may cause the Internet connection to be lost on some 32-bit systems after upgrading to this build. If you are using a 32-bit version of Windows, you can pause receiving updates until the problem is resolved.
If the Xbox Game Bar is launched from the Start menu or using the WIN + G keyboard shortcut when using the text editor, your computer may stop responding. If you encounter this problem, close the Xbox Game Bar with WIN + G, and then complete the process GameBar.exe in the "Task Manager".
On this build, users of Miracast may experience very low frame rates.
Research reports that explorer.exe / Windows shell freezes or crashes starting from build 21277.
Investigating reports that the system update process may hang for a long time when trying to install a new build.
Aero Shake is disabled in this build. To enable it, you need to open the "Registry Editor" and create a new DWORD entry with the name disallowshaking and the value 0 in the HKCUSoftwareMicrosoftWindowsCurrentVersionExplorerAdvanced section.
Real-time preview for pinned site tabs is not yet available to all insiders, so you may see a grey window when you hover over the thumbnail in the taskbar. Engineers are working to improve this feature.
Engineers are working on enabling a new taskbar feature for already pinned websites. However, you can unpin a site from the taskbar, remove it from the edge://apps page, and then re-pin it.
[News and Interests] Sometimes a pop-up window of news and interesting information may appear as if there is no Internet connection, even if the user is online.
[News and Interesting] Users cannot switch to the pop-up window of news and interesting information using the keyboard.
[News and Interests] In some cases, the pop-up window for news and interesting information may be empty.
[News and Interests] Sometimes the pop – up a window of news and interesting information cannot be closed with the pen or by pressing the touch screen.
[News and Interests] The taskbar item takes up more space than expected.